There is running joke between Roxie and I that I may have mentioned before in this blog. It has to do with 3 day holiday weekends, notoriously Memorial Day and Labor Day. Roxie says that we never go anywhere on those weekends. While 'never' might be a bit too exclusive, I agree that it is rare. However you can read about on of them here and here. My thoughts are to go the weekend BEFORE or AFTER and miss most of the crowds. This is what happened this time. We couldn't go out on Labor Day due to other commitments so I made reservations at the coast. The coast is very convenient for us so I found a campground that we have never stayed at before, the Oceano Memorial Campground. We have stayed in about 6 or 7 other campgrounds here previously.
We still made it a 3 day weekend as we left on Thursday and got to Oceano and setup around 6:30pm: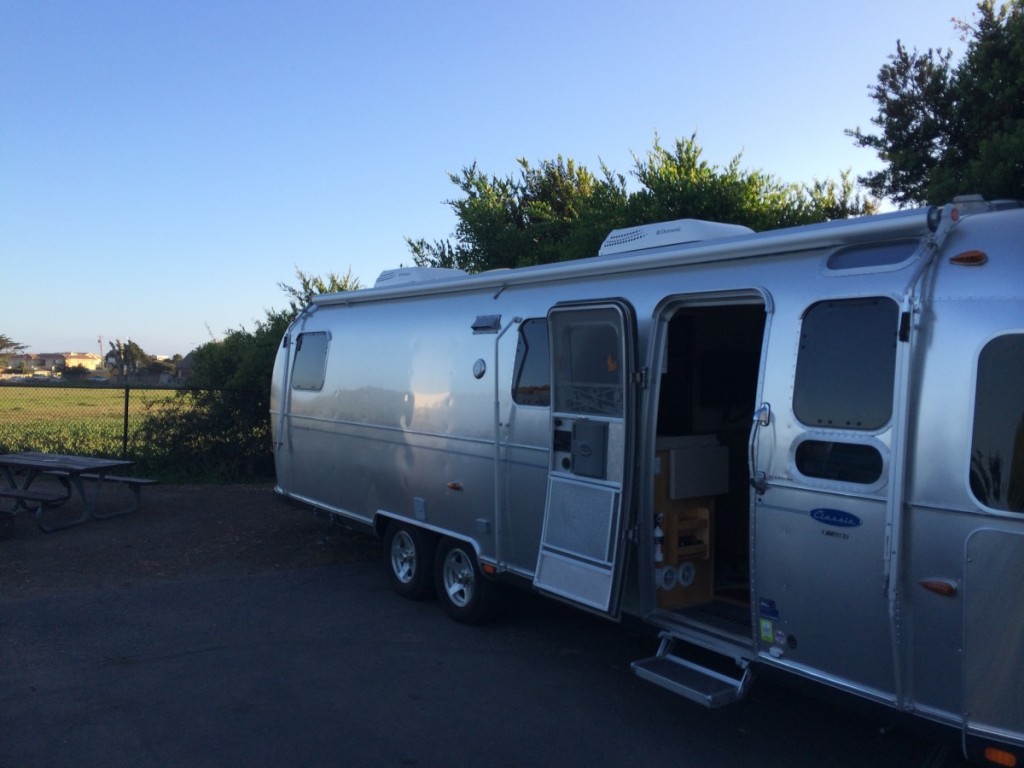 It was 25 degrees cooler here on the coast than the Central Valley. Boy that is nice!
We decided to head to Jocko's in Nipomo for dinner. Jocko's is well known eating establishment (one guy in Anza Borrego SP talked to me about it once) that is known for its' meats. It is not known for ambiance. We got there around 7:30 and had to wait a bit. The food is amazing. The smallest filet mignon they have is a 20oz version for $34. However you can add on another 10oz for $12. We declined. We actually split the plate for an extra $8.50. Here is what the filet looked like after Roxie took her portion (that you can see also):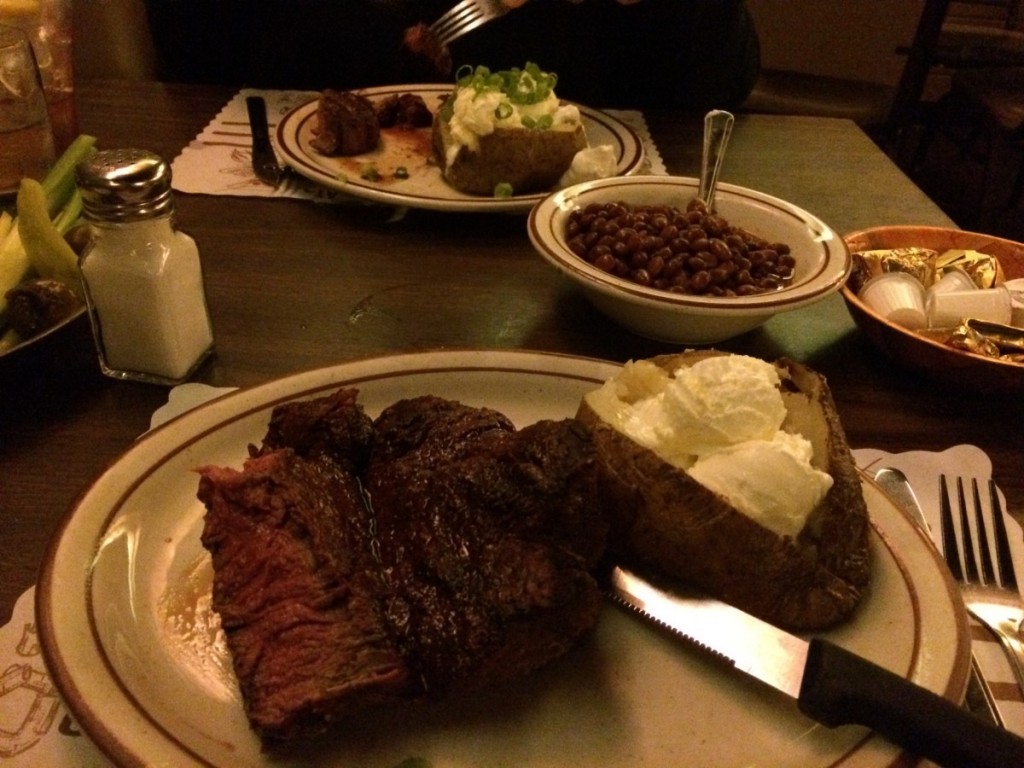 Don't miss Jocko's the next time you are in the Central California Coast area.
Friday AM we woke up without too much on the agenda. Roxie usually likes to eat a Splash Cafe in Pismo and I get something from Mo's. But today was different. We ate at the Cool Cat Cafe, it is new (about 1 year old) and was pretty good and nice for a change. We then drove to San Luis Obispo (SLO) and looked for some cookies but didn't find any. We drove by the El Chorro Regional Park NW of SLO and looked around at the campground there. We ran into another Airstream there and talked for a bit. They also have a blog and told us the name of it but neither of us can remember it now. So if you are that couple, please let us know your blog address! and Roxie found it via Google. It is Greg & Amelia's Airstream Adventures. Go check it out!
We made a loop down by Morro Bay and back through Los Osos to SLO to do a bit of shopping. After the shopping it was getting dinner time. Yes we are always eating, so it seems. We ended up finding a restaurant that was fairly new and a bit trendy. Ember in Arroyo Grande. It was very gourmet food but also very good. Something I am not used to eating but did enjoy. We capped off the evening watching a movie at the Fair Oaks Theatre.
This is a great little movie theatre. They only show one movie and we saw "The Hundred Foot Journey". The prices were very reasonable, $8 per person in the evening. The large drink was $4. The large popcorn was $5 made with fresh popcorn and flavored with real butter. Large comfortable theatre. I wish they were showing a different movie tonight <g>.
It is now Saturday AM and I am not sure how much we are going to do today. We always say we aren't going to do much of anything but that always changes. I will post an update if anything wonderful happens…