We are currently in the middle of a trip to Arizona. This trip was not planned as we would really like to avoid the desert in the throes of the summer. However we are here for another reason. My mother broke her hip in May, had two surgeries and then rehab. After almost 2 months total she was ready to go home so we came to help her transition back to her house.
Visalia had been getting hit with some warm weather and we are not unfamiliar with heat (we also lived in the Redding area). However we usually try to avoid hot areas. Somethings, however, you cannot avoid.
I was looking at weather forecasts but only saw heat. So I looked at heat maps. I found that Kingman AZ would be a good stop for an evening as they were only around 100 degrees during the day and was very similar to Visalia.
We left late on Monday, around 7pm. The plan was to drive when it was cooler and to drive to Barstow, around 200 miles, and spend the night dry camping somewhere. The trip was uneventful but odd since I am not used to driving the trailer at night: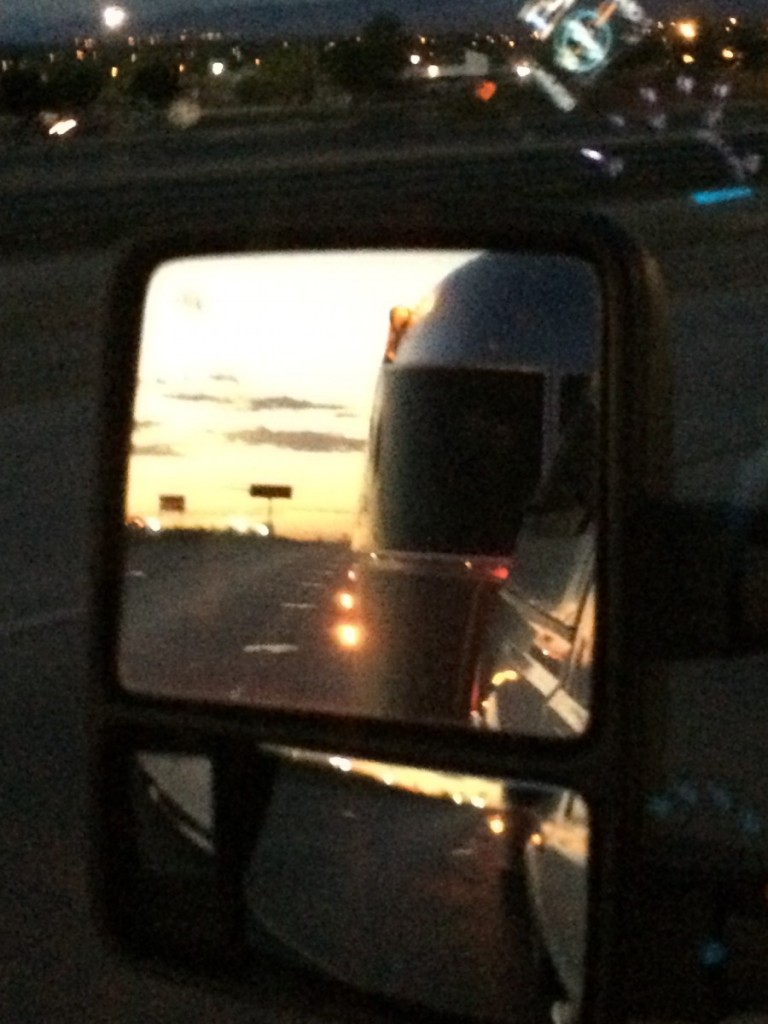 We got to Barstow and it was over 90 degrees. We found a cozy spot at the TA truck stop between some trucks and under a light. We opened a few windows and turned on the Fantastic Fan. It was warm to start but we were tired and had no problem going to sleep.
We got up on Tuesday, fueled up and headed on the boring drive on I40. Barstow is where I40 starts and ends in Wilmington NC:

"Start of Interstate 40" by Brianriceca – Own work. Licensed under CC BY-SA 3.0 via Wikimedia Commons.
Perhaps we will be able to get to the other end of I40 some day but not this trip.
Just a blah 4 lane highway out in the middle nowhere. I was watching the outside temperature and the engine temperature. I set the cruise control to 60mph and the truck did great. We were planning on stopping in Needles at the Basha's grocery store but it has been closed! The only grocery store in Needles is now closed. Given the closest grocery store was 19 miles away AND it was 109 we decided to just get some fast food and head on down the road. I was hoping that Kingman would be better and cooler since it was higher.
We made it to Kingman around 2pm and found a spot at the KOA. We took a 30amp spot because it was the shadiest spot we could find. However 30amp means we can only run one air conditioner at a time. It was 97 degrees, we had the AC going above our bed and decided to take a nap.
We woke up to distant thunder and this:
This was cooling down the area with Roxie enjoying it: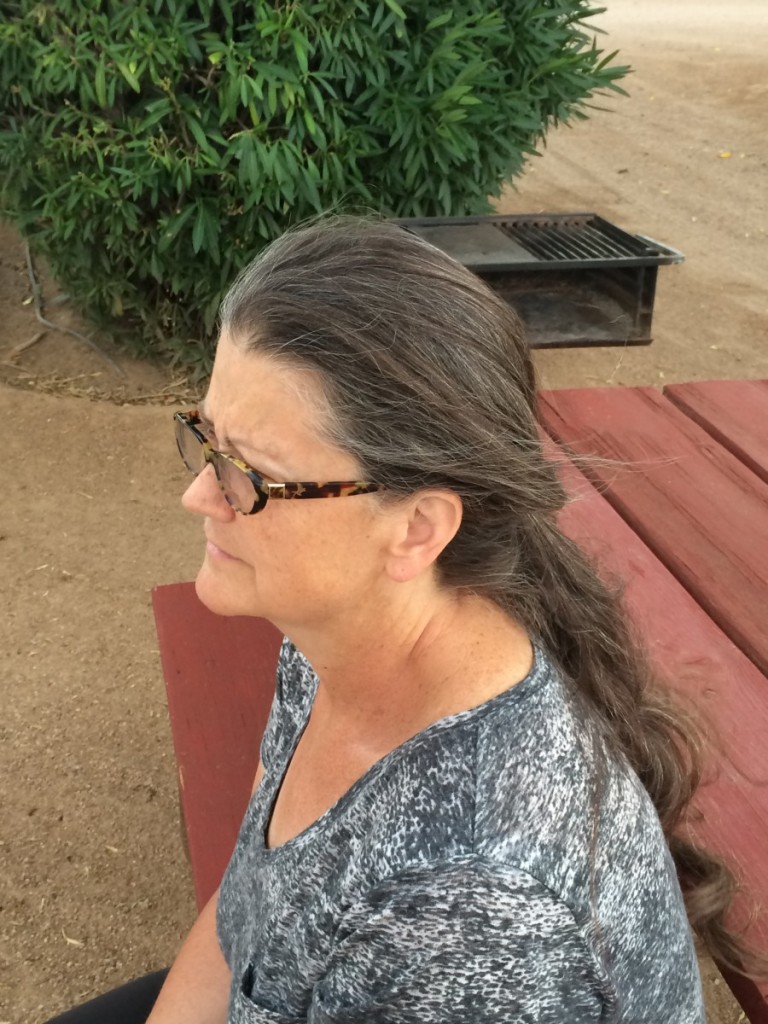 Shortly after this picture the rain started spitting. We got some things together to go eat at Cracker Barrel, our first time. By the time we got into the truck the rain was really coming down. On the drive to eat we saw numerous lightning strikes and knew we were smack dab in the middle of a big thunderstorm. It was really pouring once we got to the Cracker Barrel around 6:30. The rain had pretty much stopped by 11pm and had dumped .79″ in that time. One of the roads we tried to get back to the KOA was closed due to the flooding. I loved the neon KOA sign that they had up: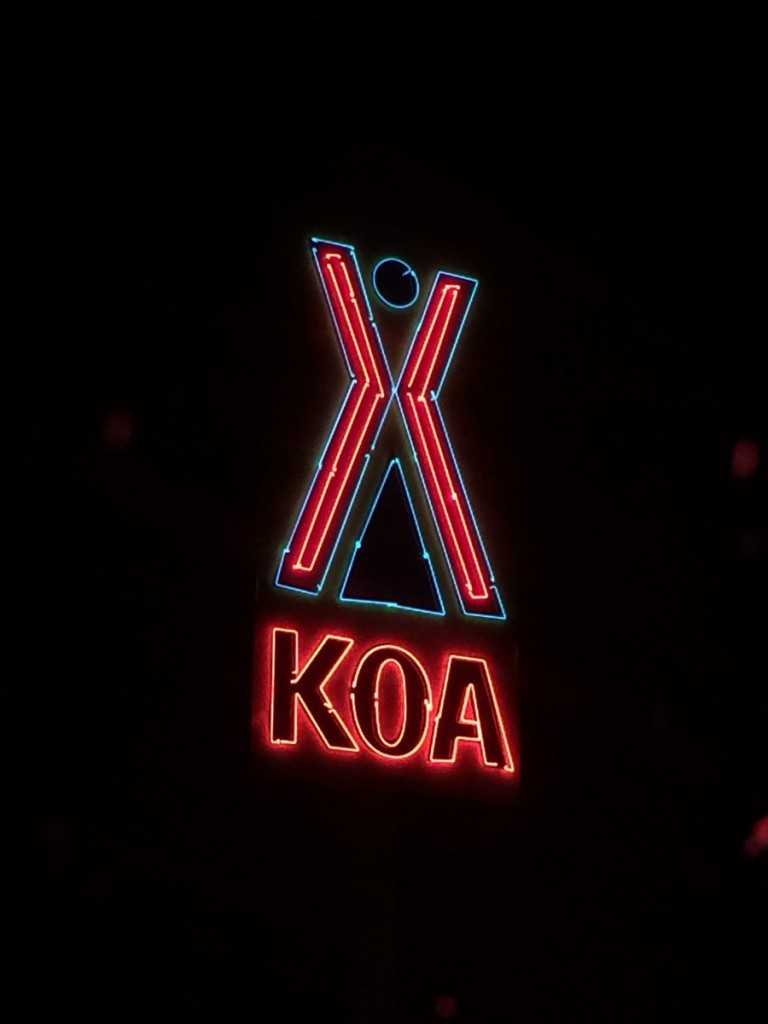 The thunderstorm dropped the ambient temperature to 68! We slept the whole night with the windows open and enjoyed the cool breezes. It was wonderful!
We made it my mother's about 2pm the next day but stopped off for a bite in a city park in Wickenberg: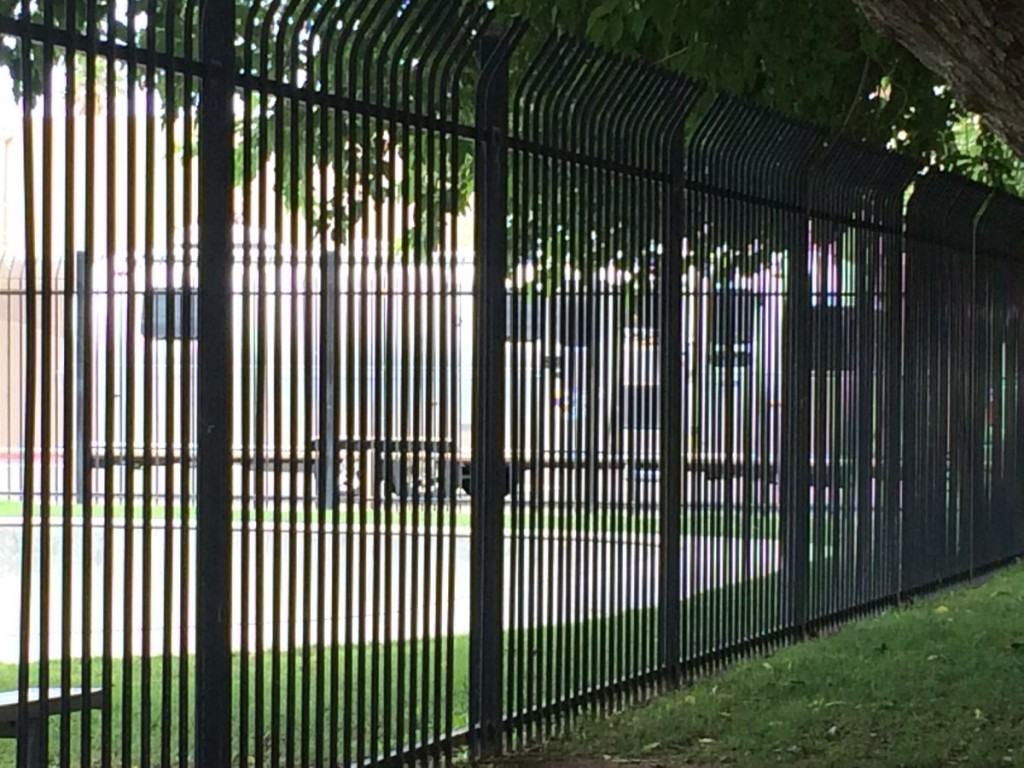 Once we pulled in (actually backed in) to her driveway we went to visit. She was doing well as she has a strong will and wanted to get back to her routine.
The next thing I needed to do was to get 30amp service for us so could run our A/C. This required a trip to Lowes to get the correct 30a breaker. I removed a 20a breaker that she was not using anymore. I plugged in the 30a and ran a separate connector and all worked well. That was until Roxie tried to run the A/C and microwave at that same time!
We are here for a bit more then back home. Not quite sure which way will be the coolest on the return!