We had another nice night by the Salton Sea but it was time to move on.  The thought was to do what we normally do, go to Sam's in Desert Hot Springs for a night or two for the hot pools and one last blast of relaxation.  We headed into the Palm Springs area and I was very aware of what was going on.  The Date Festival was in Indio, Modernism Week was in Palm Springs and President Obama was in Palm Springs and on top of all this it was a three day weekend for most.  A lot going on.
We made a detour to a Costco and went right by the Date Festival but Roxie didn't seem too interested.  I remember going when I was a kid.  The only thing I really remember is my dad taking pictures of the Date Queens in their bikini style costumes.  However during that era Queens were female.  I am sure the slides are in his collection somewhere.
I called Sam's to see if they had any spots available.  I had called them about a week earlier and they person there said not to worry about reservations as there would be spaces.  On this most recent phone call they stated that they had about 20 spaces this AM and only about 5 people had come in.  15 spaces?  OK.  We went to Sam's.
We pulled in and found it was really full.  I got a map and we looked around.  There were about 3 spots, very narrow, very crowded and ALL dirt.  No thanks.  I called another location in the area, a 55+ park.  When I asked them if 53 was OK they told me to call their other location.  Wow 2 years!  OK.  We went to the other location.
The lady in the office showed me on the map the 5 spaces that we could fit in.  She also told us we could walk to see them as she didn't want me driving the trailer through the park.  What?  So I took my bike off the rack and rode around.  Not impressed by any of those, especially not for $50/night!  We decided to get out of the Palm Springs area.  After some discussion we took a cue from our friends Dan and Marlene of MaliMish.  Morongo Casino.
Dan and Marlene routinely will leave the LA area on a trip late at night and spend their first night at Morongo.  This lets them avoid the LA traffic.  We thought we would just spend another night dry camping.  We had dumped and filled up on water at the Salton Sea so we were good.  After we got to the Casino we exchanged a few tweets with Dan to figure out where to park.  It was with all the other RV's, duh.  We walked to Ruby's Diner for a quick dinner.
Here is our convoluted journey that day (Yes, we made a loop):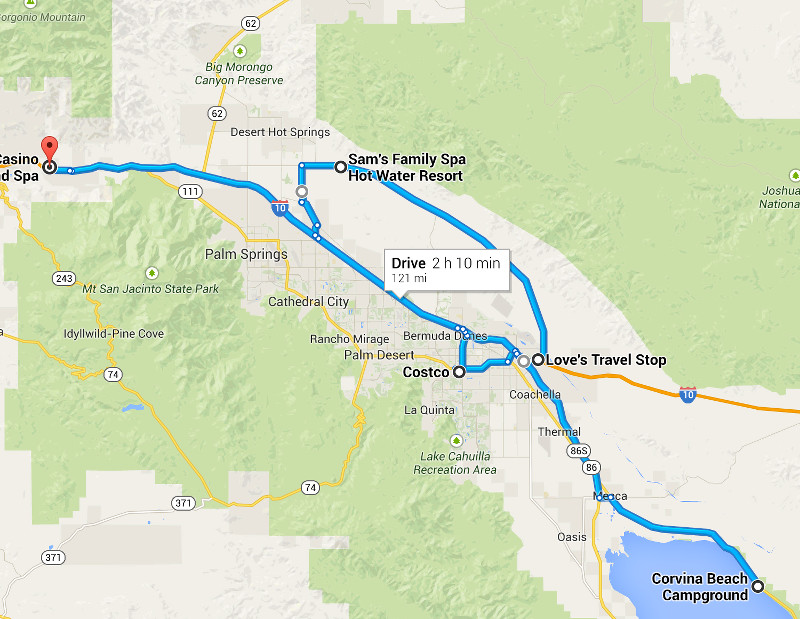 The night at Morongo was not a great one or the worst one.  Roxie didn't sleep real great but I sure did.  She was awake at midnight watching, and listening to, a couple running around trying to find their dogs and each other.  You get what you pay for ($0).
We decided we would head home with the option of stopping if it seemed prudent.
We headed through Victorville and the high desert.  I wanted to see how the truck did on the Cajon pass which is a healthy climb.  It did wonderfully.  I now have no qualms about taking the rig on any hill.
As we were passing through Victorville/Adelanto I spied a Bowlus 5th wheel.  A what?  We had to stop and turn around.  It appears to be a polishing business and there was a LOT of aluminum there.  I have a webpage setup to show all the photos but here is one to tease you: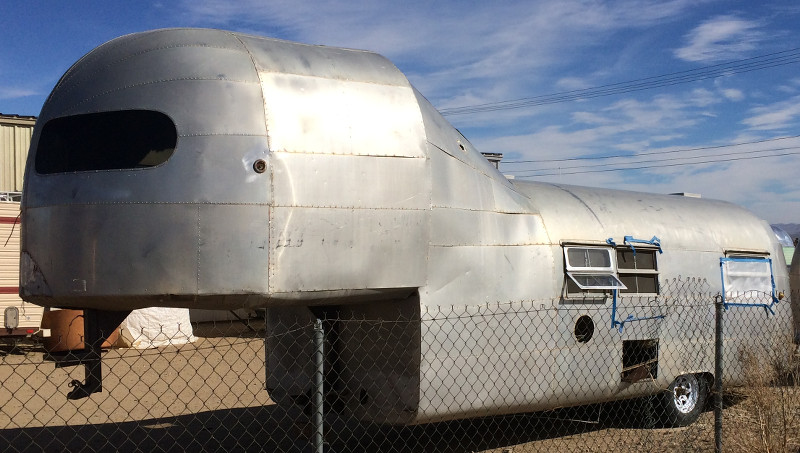 It was fun to see them all.  The guard dogs were also pretty fun too.  They were two pit bulls and did a lot of barking at first.  Eventually they just followed us along (on the other side of the fence), wagging their tails and just laid down at the end.
We pushed on and then something pretty amazing happened.  As we were going through Boron I pulled off the exit and got out of the truck.  Roxie then got in the drivers seat and we took off.  Yes, Roxie was driving the rig!!  It is one of the signs of the Apocalypse!  We had discussed it earlier in the trip and she mentioned that some other stretches that we went on would have been good for to try.  This stretch was perfect.  4 lanes (2 each way), light traffic, a pretty healthy headwind (but hey it's an Airstream).
She did GREAT!  She made it until Monolith where she pulled off and let me drive.  42 miles later!  She even had to go up and down some hills and pass a truck.  It was wonderful to see this.  Next time we will up the ante just a bit.  She is not ready to graduate to highway 99 yet.
We stopped for lunch and continued on to home.  The worst part of the trip is always the last 70 or so miles.  Here are the truck stats for the entire trip: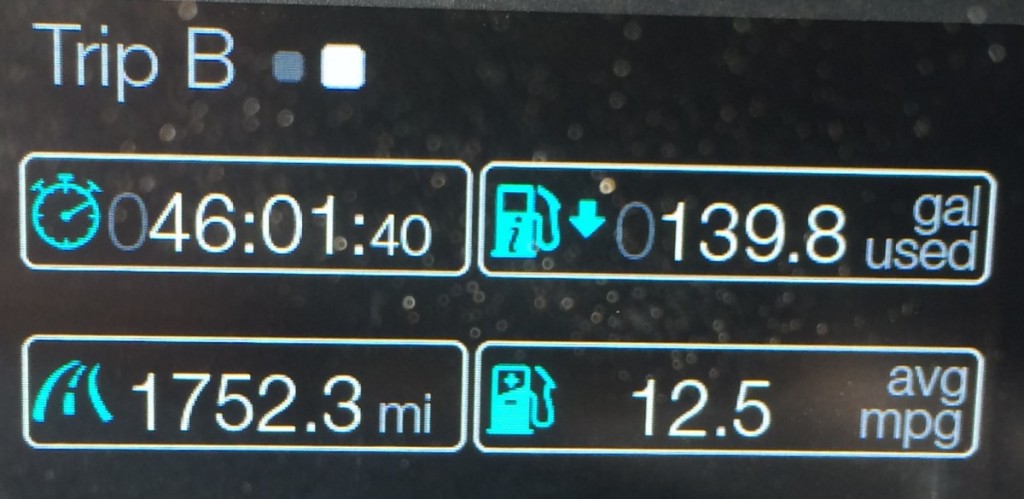 Total trailer miles was 1550.
It is nice to get home but it is nicer to be on the road.  Check my week counter on the right and count down with us!