If you have been reading these entries you know that we are heading to Southern California and were under some time pressure. We were heading to an RV park. As far as RV parks go in the LA area go, there are not too many. There is a nice expensive one in Long Beach and many touristy ones near Disneyland. We were heading to one in the San Fernando valley. We were heading to the Balboa RV park in Van Nuys, it was formerly known as the Birmingham RV park.
I first heard about this park from Sean and Kristy of LoLoHo (longlonghoneymoon.com) and their video from it:
I had always wanted to stay here due to the close proximity to a lot of things to see.
Let me talk about the RV park for a bit. It is located in an area of Van Nuys that has seen its better days but is not a ghetto in any terms. It is right next to Van Nuys airport so it can get a bit noisy and is a great place to watch helicopters. Once you arrive, you register, that is if you make it by 6pm. If you have a trailer or 5th wheel you disconnect it right at the entrance. Then the staff, in this case the owner, took his forklift and put you in your spot. I think I could have made it there but it would have taken quite a bit longer. It is a very interesting feeling to have someone else take your trailer from you and park it. They also assisted in hooking up the services. It is very tight in the park but not overly. There is a mix of permanent, semi-permanent and transient tenants. We also saw many rental motorhomes and the owner said they get a lot of foreigners in there.
The owner, and everyone else we encountered, were the ones that made the stay enjoyable Also the weather was pretty good too, compared to our last week+. I would highly recommended and we will be here again!
Here is where they put us, right by a wall which was great!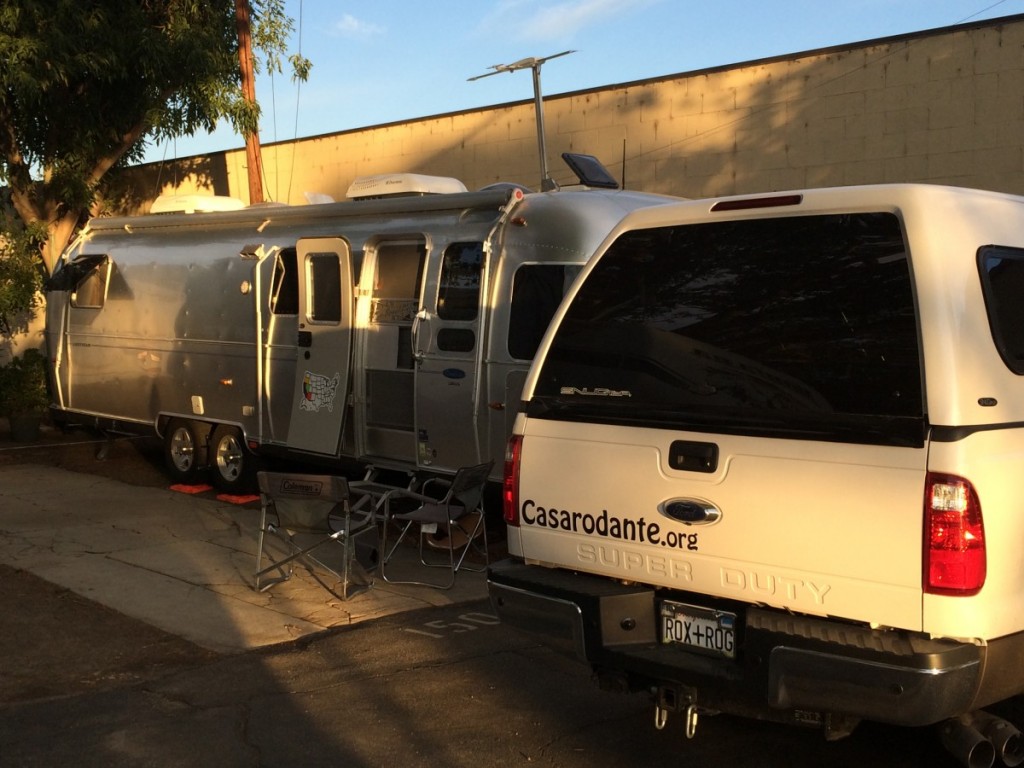 We really did not do much while we were here for only 3 nights. We just relaxed. One day we drove through the Topanga Canyon to the ocean. Down the coast through Santa Monica and Venice Beach. Then up by UCLA, back over the hill and home. One day we went to a movie. Just a lot of down time in a nice cool temperature.
We left Sunday and headed home without issue.
Stats:
1149 miles with the trailer, about 260 miles without. We averaged 12.3 mpg for the entire trip. The truck performed fantastic on the road. It only got a bit hot on real steep grades (Grapevine) with the A/C on.